Reflexioner kring Hajj | Madina
Madina
Ur "Reflexioner kring Hajj"
av B. Muhammad (2000)
Detta avsnitt är det inte lätt att att skriva om. Orden sviker, de vill inte riktigt ge uttryck för känslor och upplevelser.Därför har jag lämnat detta till sist, i hopp om att den rätta sinnesstämningen ska infinna sig – som när det råder precis rätt förhållande mellan temperaturdifferens och luftfuktighet för att iskristaller ska bildas på fönstret. Att tankarna ska börja spinnas till en tråd kring alla kringvirvlande fragment och minnesbilder.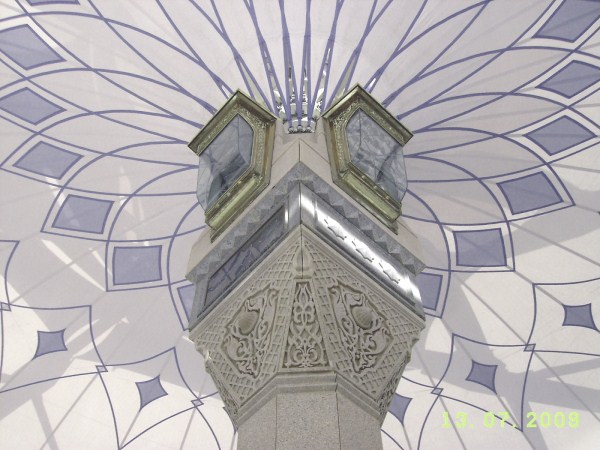 Jag skulle kunna berätta om den nybyggda moskén: en enorm bönehall i ett enda plan, med diverse roliga arkitektoniska leksaker som rörliga kupoler som rullas fram och tillbaks längs en räls, och solskydd som kan fällas upp och ned som gigantiska paraplyer. Om folkhavet, de höga, hänsynslösa vågor av mänskor med upprörda sinnen som man måste navigera igenom för att nå Profetens grav, fred och hälsningar vare med honom. Eller om historien, om hur moskén plundrades och tillträde förbjöds under den värsta wahhabitiska yran på 1800-talet – som ett sentida eko av Yazid's härjningar efter Kerbala. Men allt detta finns att läsa på andra ställen, och det är inte det jag vill berätta.
"En bön i min moské är bättre än tusen böner i någon annan moské utom masjid al Haram (i Mekka)".


Om Mekka eller Madina äger företräde, därom tvista de lärde. Men de flesta är ense om att Profetens grav är den förnämsta av alla platser på jorden.
Dadelplantager omger staden – där kanske 'Ali gick och bar vatten en en gång i tiden och inte vågade fria till Fatima, för att han ingenting ägde att ge i brudgåva. Baqi', den gamla begravningsplatsen invid moskén: för mitt inre ser jag en kvinna som rör sig hastigt mellan gravstenarna. Det är inget jag sett i verkligheten (kvinnor ges numera inte tillträde till Baqi'). Kankse är det 'Aisha när hon smög sig ut en natt för att följa sin man… nej det är en mogen kvinna, kanske någon annan anhörig till familjen eller sahaba… Moskén, byggd av soltorkat tegel, rest på dadelpalmsstammar och skuggad av palmgrenar, så olik det vi ser där idag. Ändå är den inte svår att återuppväcka i fantasin, med de människor som rörde sig där, som talade och lyssande och bad och fattade politiska beslut…
"Mellan min bostad och min minbar (talarstol) ligger en äng som tillhör paradisets ängar."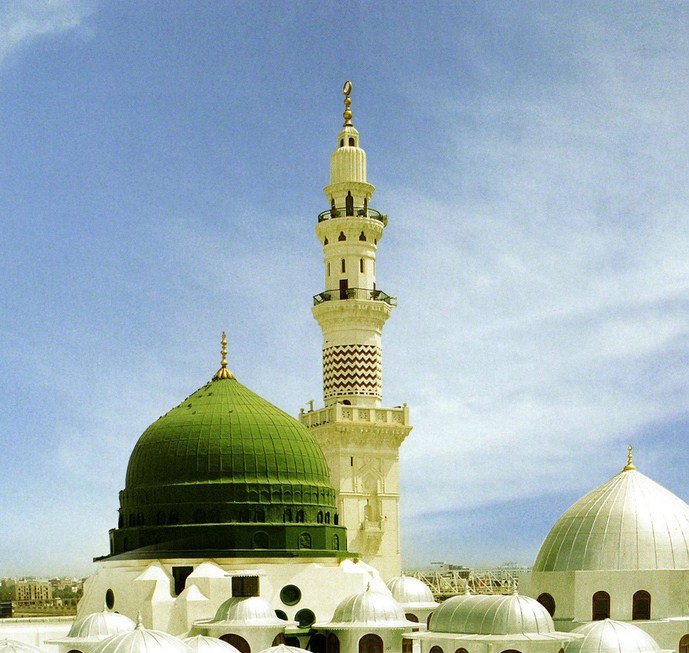 Ar-Rawdah. Här satt Guds Utvalde i samspråk med sina närmaste män. De satt blixtstilla "som om det sutte fåglar på deras huvuden", med sänkt blick, och när han tilltalade dem svarade de med knappt hörbar röst för att inte överrösta honom. De var för blyga för att se honom rakt i ögonen – utom Abu Bakr och 'Umar: de log mot honom och han log mot dem.
Här satt Imam Malik tillsammans med kalifen Abu Ja`far och tillrättavisade honom för att han höjde sin röst i Guds Sändebuds närvaro. Och kalifen svarade ödmjukt med att be om råd över hur han skulle förhålla sig. Du ska vända ditt ansikte mot honom, svarade imamen, och be honom vara din medlare på Domedagen. Gud kommer att acceptera hans medling.
"Den som besöker min grav efter min död är som den som besökte mig under min livsitd."

En stund efter soluppgången öppnas portarna för att kvinnorna ska få tillgång till Al-Rawdah. Det är en uppståndelse utan like, så det är oklokt att gå dit just då – bättre att vänta någon timme tills den värsta anstormningen lagt sig. Ta ny wudu, och sedan lugnt och stillsamt bege sig till den gamla delen av moskén. Den ligger delvis under bar himmel, så här dags på förmiddagen ännu skuggad av sina väggar och pelare. Här råder en märklig känsla av ljus, rymd och stillhet, och man kan sitta länge tyst och orörlig, och bara låta tårarna rinna…
Själva Rawdah'n är ett område på något hundratal kvadratmeter som ligger under den berömda gröna kupolen. Golvet är täckt med vit matta för att skilja den från omgivningen. På vänster sida ligger de tre gravarna: I mitten Profetens, och på ömse sidor hans närmaste följeslagares, 'Abu Bakr och 'Umar. Längre fram till höger ligger talarstolen. Profetens bostad, där han är begravd, är inbyggd i ornamentrikt mässinggaller och omgiven av vakter som försöker hindra folk från att röra vid den eller göra du`a till Profeten (fred vare med honom) – det betraktas enligt den här förhärskande läran som avgudadyrkan. Det ligger fullt med korn på mattan – någon har visst tappat en påse av det duvfoder som man kan köpa utanför moskén.
"När någon sänder fredshälsningar över mig så återlämnar Gud min själ så att jag kan besvara dem."

Jag försöker stå stilla, inklämd mellan mänskor som rör sig åt olika håll, eller plötsligt rusar fram och lämnar ett tomrum stort nog för att jag ska tappa balansen. Jag försöker mitt i kakofonin av röster, gråt och varningar för shirk att rikta hela min uppmärksamhet mot den jag kommit för att hälsa. Medvetandet lämnar för en stund det kaotiska rum jag befinner mig i och glider in på andra sidan mässinggallret, och fötterna landar mjukt i gräset på den där ängen som tillhör paradiset. Fast jag inte kan se hans ansikte så vet jag att han ler mot mig, och jag ber om det jag vill be om. Han kunde aldrig avslå någons önskan medan han levde, så hur skulle han kunna neka till min nu?
"Den som kan dö i Madina må göra det, för då kommer jag att vara hans medlare på Domedagen."
Hoppas ni dör i den heliga staden" säger parfymhandlaren, medan han häller upp några droppar trögflytande rödbrun vätska i ett mycket litet tjockväggigt glas."Insha'Allah. Hoppas vi möts i Jennah", svarar min man. Och de ler mot varandra i samförstånd.
Not:
Alla citat och påståenden rörande Profeten Muhammad, sall'Allahu `aleihi wa sallam, återfinns i Qadi `Iyad's "Ash-Shifa" tillsammans med hänvisningar till källtexter.