Vad som hände i Gaza 2008 | M. Khalil
Vad som verkligen hände i Gaza 2008/2009
Av Mohammad Khalil
---
Den allmänt vedertagna skildringen av vad som hände på Gazaremsan mellan den 27 december 2008 och den 18 januari 2009 är att ett krig bröt ut mellan två parter. Det s.k. kriget ska ha inletts av den folkvalda Hamasledda regeringen mot staten Israel i den belägrade enklaven Gaza. Denna artikel skall försöka hitta svar på vad som hände och framförallt identifiera relevanta händelser fram tills det att den israeliska militären påbörjade sin kraftfulla offensiv under namnet "operation gjutet bly".
---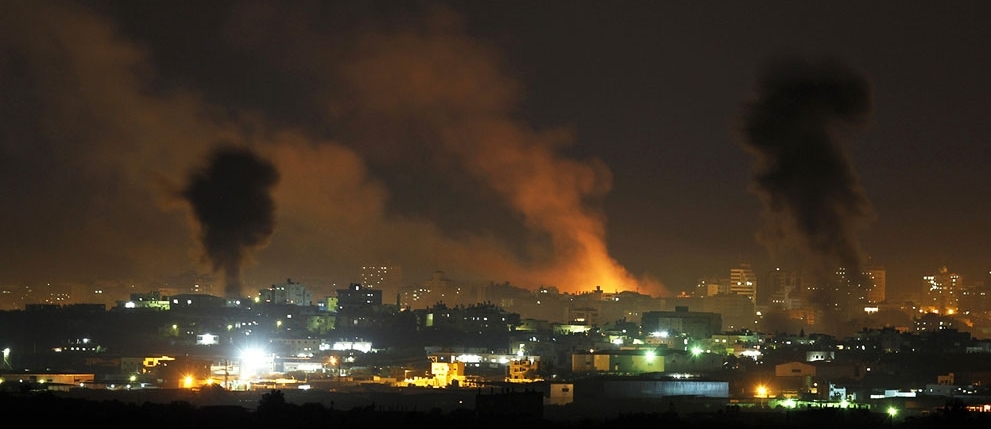 Demokratiska val och protester från världssamfundet
I parlamentsvalet den 25 januari 2006, det första palestinska valet på tio år, vann Hamas en jordskredsseger och fick 76 av de 132 möjliga platserna i det palestinska parlamentet. Hamas kunde i och med detta bilda regering på egen hand.[1] Bland de västerländska observatörerna återfanns USA:s f.d. president Jimmy Carter som betecknade valet som "helt ärligt och rättvist"[2]
Kort därefter påbörjade USA och Israel en ekonomisk blockad mot den nya regeringen med motiveringen att Hamas måste "erkänna Israel, avsäga sig våld och respektera tidigare israelisk-palestinska överenskommelser."[3] Dessa, till synes rimliga, krav motsvarades dock inte av några åtaganden från Israel. USA krävde inte att Israel lämnar tillbaka mark som det ockuperar sedan 1967 för att tillåta palestinierna att utöva sin rätt till självbestämmande. Hela poängen med varför palestinierna valde Hamas berodde på de misslyckanden som den palestinska myndigheten med Fatah i spetsen åstadkommit under sina år av fruktlösa avtal. Värt att nämna är att USA under mars 2010 röstade emot palestiniernas rätt till självbestämmande i FN:s råd för mänskliga rättigheter. Resolutionen gick dock igenom med 45 röster för och med USA som den enda rösten emot. Omröstningen bekräftar återigen för det palestinska folket att den väg den palestinska myndigheten tagit där man ingått i en överdrivet god, men bevisligen totalt fruktlös, relation med USA och Israel är dömd att misslyckas.[4]
Det viktigaste avtalet mellan den palestinska myndigheten och Israel tecknades under Osloprocessen. Israels före detta utrikesminister Shlomo Ben-Ami beskriver avtalet med följande ord, "En av betydelserna med 'Oslo', var att PLO (den palestinska myndigheten) blev Israels medhjälpare med syftet att bryta ned den första intifadan [upproret] och avbryta vad som tydligt var en äkta demokratisk kamp för palestinskt självbestämmande."[5] Natan Sharansky, ytterligare en f.d. israelisk minister, ger sin syn på Osloprocessen, "Idén med Oslo var att hitta en stark diktator som ska hålla palestinierna under kontroll."[6]
Kan man verkligen kräva av Hamas att de ska skriva under avtal som t.o.m. av israeliska f.d. ministrar beskrivs på ett sådant sätt? En annan viktig punkt som påvisar hur misslyckad denna s.k. fredsprocess var är att Israel under denna period inte minskade, utan snarare utökade sina illegala bosättningar på Västbanken med ungefär hundra procent.[7]
Försök till statskupp samt en illegal blockad
Under juni 2007 stoppade Hamas en kupp orkestrerad av USA, Israel och den palestinska myndigheten.[8] Intressant är att medier, särskilt i väst, har försökt prångla ut historien att Hamas "tog kontroll över Gaza med våld" och att det skulle ha varit Hamas, den demokratiskt valda regeringen från 2006, som organiserade en kupp mot den redan avsatta palestinska myndigheten i området. Med lite logik inser man att Hamas utgör den demokratiskt valda regeringen som har fått i uppgift av det palestinska folket att styra samtliga palestinska områden, både Västbanken och Gazaremsan. Med andra ord måste de sammandrabbningar som skett berott på att en annan part försökt anordna en kupp mot den sittande regeringen, en kupp som dock framgångsrikt avvärjdes.
Hamas lyckades säkerställa sin kontroll på Gazaremsan, men dessvärre hamnade Västbanken under den icke folkvalda palestinska myndighetens grepp. Västbanken är som bekant helt ockuperad och styrd av Israel. Den "kontroll" som den palestinska myndigheten har omfattar vad som tilldelats dem på nåder av Israel.
Under 2008 förvärrade Israel sin blockad mot Gazaremsan då man valde att "helt stänga gränserna."[9] Sveriges Radio, SR, rapporterade att stängningen ledde till "fördömanden från FN och humanitära organisationer." Samma år gick FN ut med en rapport där man konstaterade att blockaden orsakat en "mänsklig katastrof".[10] Mary Robinson, FN:s f.d. höga kommissarie för mänskliga rättigheter, beskrev under november 2008 effekterna av blockaden med följande starka ord, "Gazas hela civilisation har blivit förstörd, jag överdriver inte."[11] Richard Falk, FN:s utredare för mänskliga rättigheter, kallade även blockaden för "ett brott mot mänskligheten"[12]
Vapenvila mellan Hamas och Israel
Israel accepterade att ingå en vapenvila med Hamas i juni 2008. Villkoren för vapenvilan, som anordnades av Egypten, var att parterna inte fick angripa varandra, att Israel lättade på den illegala blockaden och att man efter en tid skulle påbörja samtal om fångutväxling.[13]
För att beskriva hur vapenvilan upprätthållits skrev det israeliska Underrättelse- och terrorismcentret (Intelligence and Terrorism Information Center) i sin rapport från december 2008 att Hamas var "noggrant med att upprätthålla vapenvilan", vidare skriver man att andra palestinska grupper avfyrade raketer vid några enstaka tillfällen. Rapporten poängterar dock att "Hamas försökte påtvinga villkoren för vapenvilan" på de andra grupperingarna och "förhindra dem från att bryta mot den."[14]
Världens mest ansedda människorättsorganisation, Amnesty International, rapporterade även att vapenvilan "höll i fyra och en halv månad", och att den "havererade efter det att israeliska styrkor dödade sex militanta palestinier i flyganfall och andra anfall den 4 november 2008." Human Rights Watch, ytterligare en högt ansedd människorättsorganisation, delar Amnestys verklighetsbeskrivning och skriver, "anfallen upphörde i samband med den vapenvila som påbörjades i juni 2008 men eskalerade i november 2008 efter att den israeliska militären gjorde en räd i Gaza."[15][16]
Som svar på Israels räder den 4 november återupptog Hamas sina raketattacker, vilket gav Israel den anledning, som de alltså framgångsrikt provocerat fram, att påbörja en storskalig militär offensiv mot Gazaremsan. Hamas försökte dock förhandla fram en ny vapenvila i utbyte mot att den illegala blockaden hävs, men när valet stod mellan att antingen "svälta eller slåss" drog Hamas slutsatsen att det senare var det enda alternativet.[17] Israels f.d. befälhavare på Gazaremsan, Shumel Zakai, menade att Hamas val var fullt naturligt "när den ekonomiska pressen på Gazaremsan fortgår". Zakai fortsätter vidare, "Moroten är förbättring av den ekonomiska situationen på Gazaremsan…//…Man kan inte bara lämna palestinierna i Gaza i den ekonomiskt svåra belägenheten de är i, och förvänta sig av Hamas att de bara ska sitta där och inte göra något. Det är helt enkelt orealistiskt."[18]
Mot bakgrund av det ovan anförda är det därför inte svårt att sympatisera med Hamas ledare Khaled Mishal när han, under det brutala anfallet, i ett öppet brev skriver "Våra blygsamma, hemmagjorda raketer är vårt protestrop till omvärlden. Israel och dess amerikanska och europeiska sponsorer vill att vi ska dö stillatigande. Men dö stillatigande kommer vi inte."[19]
22 dagar av död och förstörelse
Den militära offensiven mot Gazaremsan, som av israelisk militär kallades "operation gjutet bly", påbörjades den 27 december 2008. I sin rapport beskriver Amnesty operationens första dag med dessa ord, "Bombningarna började utan förvarning runt kl 11.30, en hetsig tid, då gatorna var fulla med civila, inklusive skolbarn som lämnat skolan vid slutet av förmiddagspasset och de som gick till skolan för det andra dagspasset."[20]
Ungefär 250 personer dödades under den första dagen, majoriteten av dem var nyutexaminerade poliser, resterande var kvinnor och barn.[21] Vad gäller attacken mot de nyutexaminerade poliserna poängterade Amnesty att "ingen av dem medverkade i fientligheterna" samt att "många av dem inte vara involverade i militanta grupperingar". Den högt ansedda juristen Richard Goldstone, tidigare chefsåklagare för FN-tribunalerna för Jugoslavien och Rwanda, fick efter att offensiven tog slut i uppgift av FN:s råd för mänskliga rättigheter att leda en oberoende undersökningskommission. I rapporten konstaterar han att attacken mot de nyutexaminerade poliserna "stred mot internationell rätt", han förklarar att eftersom poliserna "inte var med i striderna" och att attacken inte tog hänsyn till "förlusten av civila liv" så ska den betraktas som en "attack mot civila" och därmed ett brott mot internationell rätt.[22]
Faktum är att offensiven mot Gazaremsan var planerad flera månader i förväg och en intern dispyt i Israel uppstod gällande huruvida man skulle godkänna diverse planerade attacker, bland annat just den mot de nyutexaminerade poliserna. Det hela slutade med ett godkännande och, som vi tyvärr fått erfara, även genomförande av planerna.[23]
Under offensiven använde den israeliska militären vit fosfor. Human Rights Watch släppte en 75-sidig rapport i mars 2009 som enbart behandlade detta. Rapporten kom fram till att Israel genom användandet av vit fosfor i "tätbefolkade områden, inklusive Gaza city, bröt mot internationell rätt". Israel släppte vit fosfor över "en skola, FN:s lagerlokal för humanitära sändningar och ett sjukhus".
Effekterna av vit fosfor beskrivs i rapporten, med hänvisning till socialdepartementet, med följande, "vit fosfor kan orsaka allvarlig skada och död när den kommer i kontakt med huden, inandas eller sväljs. "Human Rights Watch fastslog att den israeliska militären med sin "avsiktliga eller ansvarslösa användning av vit fosfor" har "brutit mot internationell rätt".[24]
Richard Goldstones rapport bekräftar de rön Human Rights Watch gjorde men konstaterar att ytterligare ett sjukhus angreps med vit fosfor, nämligen Al-Wafasjukhuset:
"Granatbeskjutningen med vit fosfor mot UNRWA-byggnaden i Gaza City är ett sådant fall, där försiktighetsåtgärder inte vidtogs vid val av vapen och angreppsmetoder. Det avsiktliga angreppet på Al Quds-sjukhuset med högexplosiva artillerigranater och vit fosfor står också i strid med artikel 18 och 19 i fjärde Genevekonventionen, likaså angreppet mot Al-Wafasjukhuset."[25]
Israel anklagade Hamas för att ha använt sig av mänskliga sköldar under offensiven mot Gazaremsan för att ursäkta det stora antalet döda civila. Goldstone undersökte dessa anklagelser men fann inga bevis till stöd för påståendet.[26] Däremot fann man bevis för att den israeliska militären använt mänskliga sköldar vid ett antal andra tillfällen vilket utgör ett brott mot internationell rätt.[27]
När det som Amnesty kallade för "22 dagar av död och förstörelse" gått till sin ända, hade 1 434 personer på den palestinska sidan dödats, varav 235 militärer och 1 199 civila. Av de civila förlusterna utgjorde 121 kvinnor och 288 barn. Totalt skadades 5 303 palestinier, inklusive 1 606 barn och 828 kvinnor. På den andra sidan dödades tio soldater, varav fyra av s.k. 'friendly fire', samt tre civila.[28][29]
Vittnesmål och Goldstones slutsats
En sammanställning av vittnesmål från diverse israeliska soldater, där de beskriver vad de gjorde under den förödande offensiven, släpptes under juni 2009. I denna kan man läsa att flera soldater berättar att den israeliska militären använde "galet mycket eldkraft". En soldat beskrev sin upplevelse av offensiven med följande ord, "Man känner sig som ett barn som leker med ett förstoringsglas och bränner myror". En annan upplevde det hela som "ett Playstation-spel".
Man berättar även att man inte fick speciella order om att skilja mellan civila och militära personer. Vidare bekräftar en soldat att "ingen hänsyn till civila togs", man skulle helt enkelt "skjuta vem man än såg". En soldat berättar att han hade "en känsla av att vissa var ute efter att döda" och att "ingen brydde sig om det".[30]
Mot bakgrund av ovan anförda vittnesmål är det därför inte svårt att förstå den slutsats om operationen som Richard Goldstone presenterat i sin rapport:
"Kommissionen drar slutsatsen att vad som skedde var ett medvetet, oproportionerligt anfall, för att förnedra och terrorisera en civilbefolkning samt för att radikalt minska dess lokala ekonomiska kapacitet att både ge arbete och möjlighet att försörja sig själv och påtvinga civilbefolkningen en allt större känsla av beroende och sårbarhet."
Goldstone betonar också att soldaterna inte agerade på egen hand utan att offensiven planerades och genomfördes av ledarskapet i Israel:
"Operationens samtliga faser planerades noga. Kommissionen har med oro noterat offentliga uttalanden av israeliska tjänstemän, inklusive höga militärer, som innebär att användning av oproportionerligt våld mot civilbefolkningen och förstörelse av civil egendom är legitima medel för att nå Israels militära och politiska mål."
Goldstone fortsätter, "den systematiska och avsiktliga karaktären av de aktiviteter som beskrivits i denna rapport lämnar kommissionen bortom all tvivel att ansvaret i första hand ligger hos dem som utformade, planerade, befallde och övervakade operationerna."[31]
Det är främst mot bakgrund av den ansedda juristen Richard Goldstones slutsatser, som undertecknad drar slutsatsen att det som pågick på Gazaremsan mellan den 27 december 2008 och 18 januari 2009 inte var ett "krig mot Hamas" utan snarare en massaker på Gazaborna i syfte att, precis som Goldstone uttryckte det, "förnedra och terrorisera" den palestinska befolkningen.
---
Artikeln har skrivits med hjälp av den forskning som professor Norman G. Finkelstein, en amerikansk-judisk statsvetare, med doktorsexamen från Princeton University, sammanställt i sin bok "This Time We Went To Far" (2010).
Noter:
[1] http://www.dn.se/nyheter/varlden/forhandlingar-om-ny-palestinsk
[2] http://www.cartercenter.org/news/documents/doc2348.html
[3] http://www.nytimes.com/2006/04/08/world/middleeast/08hamas
[4] http://unispal.un.org/UNISPAL.NSF/0/E7C8836878A224F38
[5] Shlomo Ben-Ami, Scars of War, Wounds of Peace (2006) s. 191, 211.
[6] Andy Levy-Ajzenkopf, "Sharansky on Tour Promoting Identity" Canadian Jewish News (1 Juli 2008).
[7] http://www.btselem.org/English/Publications/Summaries/200205
[8] http://www.vanityfair.com/politics/features/2008/04/gaza200804
[9] http://sverigesradio.se/sida/artikel.aspx?programid=83&
[10] http://www.ochaopt.org/documents/ocha_opt_gaza_situation
[11] http://news.bbc.co.uk/2/hi/middle_east/7708670.stm
[12] http://news.bbc.co.uk/2/hi/7774988.stm
[13] http://news.bbc.co.uk/2/hi/middle_east/7462554.stm
[14] http://www.terrorism-info.org.il/malam_multimedia/English/
[15] http://www.amnesty.org/en/region/israel-occupied-territories/
[16] http://www.hrw.org/en/node/84867/section/2
[17] http://www.crisisgroup.org/en/regions/middle-east-north-africa
[18] http://www.haaretz.com/news/can-the-first-gaza-war-be-
[19] http://www.guardian.co.uk/commentisfree/2009/jan/06/gaza
[20] http://www.amnesty.org/en/library/info/MDE15/015/2009/en
[21] http://news.bbc.co.uk/2/hi/middle_east/7800985.stm
[22] http://www2.ohchr.org/english/bodies/hrcouncil/docs/ s. 17, 18.
[23] http://www.haaretz.com/news/how-idf-legal-experts-legitimized
[24] http://www.hrw.org/node/81760
[25] http://www2.ohchr.org/english/bodies/hrcouncil/docs/ s. 413.
[26] Ibid, s. 420.
[27] Ibid, s. 231-232.
[28] Ibid, s. 92.
[29] http://www.unhcr.org/refworld/docid/4a2cd0c743.html
[30] http://www.breakingthesilence.org.il/oferet/ENGLISH_oferet.pdf
[31] http://www2.ohchr.org/english/bodies/hrcouncil/docs/ s. 408.
---
:
Från ArabNyheter 2011/08/15
Även publicerad i Tidningen Kulturen, samt på många andra ställen.
Foto: Israelisk luftattack mot norra Gazaremsan den 14 november 2012. (Reuters/Darren Whiteside)