Saladins minbar | M. Khalil
Filmtips: Hur Saladins minbar återskapades
Av Mohammad Khalil


Den 21 augusti 1969 drabbades al-Aqsamoskén i Jerusalem av en stor tragedi. En kristen sionist från Australien vid namn Denis Rohan satte en del av moskén i brand. Efter över fem timmars intensiv brand lyckades brandmännen släcka elden och rädda helgedomen, som anses vara islams tredje heligaste plats. Däremot lyckades man inte bevara minbaren i moskén. Minbar, eller mimbar som det egentligen uttalas, är arabiska för predikstol.
Vad som gjorde al-Aqsamoskéns minbar så speciell är den otroliga historien bakom dess konstruktion. Nur al-Din (d. 1174), härföraren som organiserade de muslimska armeérna mot korsfararna, lät bygga minbaren som en framtida gåva till al-Aqsamoskén när muslimerna väl hade befriat Jerusalem. Nur al-Din var nämligen övertygad om muslimernas snara seger och påbörjade bygget medan kriget pågick. Det dröjde dock till efter Nur al-Dins död, 1187 när Saladin intog staden, som minbaren sattes på sin plats. Därför kallades den Saladins minbar.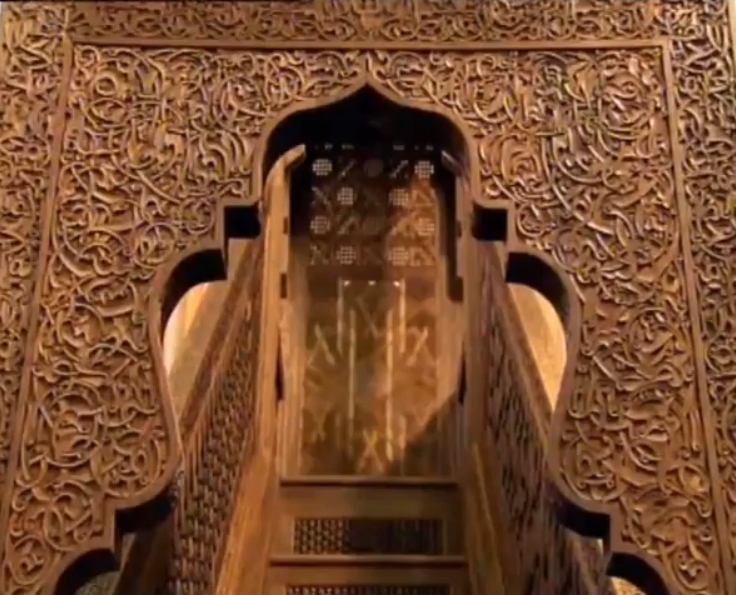 Attacken mot al-Aqsamoskén ledde till stora protester i den muslimska världen. Man anklagade Israel för dådet. Till FN:s säkerhetsråd skickades ett brev signerat av representanter för 24 muslimska nationer med bland annat följande innehåll:
The Jewish Agency arranged for the Australian to work in a Kibbutz for some months, so that he could learn the Hebrew language and acquire more of the Zionist teaching. The report published in the Jerusalem Post – an Israeli semi-official newspaper-of 25 August 1969 concerning the life of this Australian in the Kibbutz and his dreams of building Solomon's temple casts doubt on the case and adds to the fears and worries of the Muslims about their holy shrines; it also throws light on who is the criminal and who is the accomplice.
We have not forgotten statements in the early days of the 5 June 1967 Israeli occupation about the future of Jerusalem, nor have we forgotten the report of Menahem Borsh, which was published in Yediot Aharanot of 18 August 1969, only three days before the burning of the Mosque, emphasizing that the Temple would be built anew in the same spot …
Protesterna ledde till att FN:s säkerhetsråd antog resolution 271 som fördömde dådet och krävde att Israel överger sina försök att förändra Jerusalems karaktär.
Den ovärderliga minbaren brann ner till aska i samband med attentatet. Det enda som finns kvar som minne är gamla fotografier. Långt senare skulle det visa sig att man med hjälp av dessa bilder kunde återbygga den. Den nya minbaren stod klar först 2007. Varför det tog sådan tid att klura ut hur man skulle göra förklaras i dokumentären "Stairway to Heaven – Rebuilding the Minbar of Saladin". I dokumentären får vi följa arkitekten Minwar al-Meheid i hans strävan att återskapa Saladins minbar.
---
Från Fria Ordet 13 april 2011
Dokumentären om rekonstuktionsarbetet finns på Spellistan Saladins minbar på Yoububekanalen nurdotnu
(engelska med arabisk text)