Samtal om Sheikh 'Abdul Qadir al-Jilani

Samtal om Guds vän 'Abdal-Qadir al-Jilani
(må Allah vara nöjd med honom)
Utdrag från en email-diskussion som fördes på sfcm i september 1999
Sammanställt av B. Muhammad
Sheikh 'Abdal-Qadir al Jilani (radi Allah anhu) var en shari'a-lärd av Hanbaliskolan, men han är mest känd som "Qutb al-awaliyya" – centralaxeln bland Guds vänner. Det arabiska ordet wali förekommer t.ex. i Koranens sura 10:62 där Allah säger: "Sannerligen, Guds vänner [awliyaa' Allah] har inget att frukta".
Enligt en berömd hadith qudsi säger Allah:
"Den som visar fiendskap gentemot en av Mina vänner [wali] förklarar Jag krig emot"
och hadithen slutar med :
"Jag är hans hörsel som han hör med och hans syn som han ser med, och hans hand som han griper med och hans fot som han går med. Om han ber mig om något så ska jag säkert ge honom det, och om han söker skydd hos Mig så ska Jag säkert skydda honom".
"Att kalla Abd al-Qadir al-Jilani för Guds vän – betyder det att Gud har utsett honom till Sin vän?"
I boken "The Reliance of the Traveller" ges två kommentarer till ordet wali:
en som känner Allah ['arif], som är ståndaktig i lydnad gentemot Honom och uppriktig i sin dyrkan,
den som är nära Allah genom sin fromhet och genom att lyda Hans befallnignar och hålla sig borta från det Han förbjudit
Sheikh 'Abdal-Qadir al Jilani gjorde själv detta berömda uttalande:
"Min fot är ovanför nacken på var och en av Allahs vänner"
qadami hadhihi 'ala raqabati kulli waliyyin li'Allah.
Det var inte något han hade hittat på själv, utan han hade blivit befalld av Allah att säga det. Ingen som levde på hans tid ifrågasatte detta, utan alla – t.o.m. kalifen – erkände honom som sin andlige suverän och böjde sig inför honom.
"Men jag undrar då: på vilket sätt talade Allah till Sheik Abdal-Qadir ?"
Allah talade direkt till Profeten Moses (fred vare med honom), men det var en speciell ynnest. I vanliga fall talar Allah till Profeterna genom Sina Änglar, och till andra människor genom Sina Profeter.
I boken "Necklaces of Gems" berättar Sheikh 'Abd al-Qadir att han samtalade med vägvisaren Khidr. Ibland skedde det genom personer som han inte kände, det var t.ex. så han fick uppdraget att börja undervisa folk i Bagdad (ett uppdrag han för övrigt helst hade velat slippa). Han berättar också att han träffade Profeten Muhammmad (fred och välsginelser vare med honom) och Hazrat 'Ali (må Allah vara nöjd med honom), och genom dem mottog talets gåva.
Men det finns också mer subtila sätt att tala. En gång blev Sheikh 'Abd al-Qadir's lärare Hammad förvånad över hur han ('Abd al-Qadir) vågade tala med så självsäkra ord. 'Abd al-Qadir lade då handen på Hammads bröst och bad honom att läsa med sitt hjärta vad där stod skrivet. Hammad tittade med sitt inre på handen och sade "Det står att han ('Abd al-Qadir) har fått 70 säkra löften från Allah om att Han alrdig kommer att behandla honom hårdhänt".
Detta svar tillfredsställde Hammad – jag hoppas att det i någon mån också ger svar på din fråga.
"Jag skule vilja se en text som han själv skrivit där han säger sig få order av Gud. "Om man läser "Secret of the secrets", sirr al-asraar, beskrivs det i inledningen av boken (som är skriven enligt vittnesmål från andra) hur Al-jilani återupplivar döda kycklingben till en livs levande, springade kyckling då han drar handen över den. I det som kommer senare, då själva texten – sirr al asraar, som Al-jilani själv skrivit börjar, finner man inga sådana historier. Frågan är om inte de är mer att beteckna som sagor. Om du kan redovisa en text han själv skrivit om sina mirakel kommer jag överväga om att byta ståndpunkt."
Det finns många sådana uttalanden i hans texter. Men jag har förståelse för din ståndpunkt. Låt oss se dessa berättelser som "sagor", men låt mig då berätta en till.
Det var en man som berättade hur han (liksom du) tyckte att de "sagor" som cirkulerade om Sheikh 'Abd al-Qadir verkade ganska osannolika. Men han var ändå lite nyfiken, så en dag när han råkade gå förbi Sheikh 'Abd al-Qadir's skola vid 'Asr-tiden bestämde han sig för att gå in och kika. Han tänkte då inte alls på att han inte hade wudu. Efter bönen kom Sheikh 'Abd al-Qadir fram till honom och förebrådde honom för att han var så slarvig. Han blev mycket förvånad över att Sheikh 'Abd al-Qadir kunde veta något han själv helt glömt bort. Han avslutar sin berättelse med att säga "Från den stunden höll jag mig i hans sällskap och förband mig med honom i kärleksfull tillgivenhet och tjänst, och så kom jag att uppleva den fulla vidden av hans välsignade egenskaper."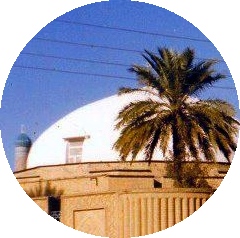 Det intressanta i dessa berättelser är inte så mycket den historiska sanningshalten utan snarare "undertexten", det underliggande budskapet. Det jag själv slås av när jag läser dem är Sheikh 'Abd al-Qadir's oerhörda integritet, hans kompromisslösa lydnad mot Allah, den vikt han ständigt lade vi sanning och uppriktighet, ja hela den andliga resning som gjorde att hans blotta närvaro verkade så betvingande på hans omgivning. En man som säger "min fot står över Guds vänner" är antingen någon som inte fruktar Gud det minsta eller någon som verkligen talar sanning. Det behövs egentligen inga andra "bevis" än denna enkla logik. Så välj själv vad du vill tro.
Är det verkligen sant att Allah återupplivade den döda kycklingen som låg på Sheikh 'Abd al-Qadir's tallrik? Visst, det är ju möjligt – om du t.ex. minns historien om profeten Abraham (fred vare med honom), som Allah befallde att stycka en fågel och placera dess delar på olika bergstoppar, för att visa honom att Han kan återuppväcka de döda. Kanske är det helt enkelt så att mänskor i andra tider varit mera mottagliga för ovanliga ting än vad vi är idag med vår skepsis och förnuftsdyrkan.
Men en sak vi ska ha klart för oss är att denna skepsis – ett kännetecken för vår tid – effektivt kan hindra oss från att "förbinda oss i kärleksfull tillgivenhet och tjänst" gentemot en andlig lärare, och att "uppleva den fulla vidden av de välsignade egenskaper" som Allah (även i vår tid) strött ut lite här och var. Och då förlorar vi mycket av det som är själva kärnan i Islam.
Nu har jag berättat en massa om Sheikh 'Abd al-Qadir (radi Allah ´anhu), vilket inte alls var min avsikt från början. Men när vi nu kommit så här långt, så är det kanske din tur att berätta lite för mig. Kan du förklara vad du fick för intryck av "Sirr al-Asraar" när du läste den?
"Jag kan inte ge några detaljer, men jag kan förmedla den känsla jag fick av en person som i allt han (själv) skrev var något gott och som jag inte kunde finna någon sak emot."
För övrigt diskuterar jag inte detta pga att jag själv är lämplig till det, utan för att du tog upp ett ämne som berör kärnan i min tro.

Det som etsat sig fast i mitt minne av vad han skrev och som berikade mig mest, tror jag, var några rader där han kommenterar en man som sade att det inte finns något innanför hans plagg förutom Gud (eller han kanske nämnde något av Guds attribut). Al-Jilanis kommentar var att detta uttalande inte skulle tolkas som ett rationellt påstående, utan kräver förståelse på ett annat plan. Poängen är alltså att det mannen sagt var inte shirk. Det finns alltså många plan för förståndet som man kan klättra vidare på. För mig betyder det också att t.o.m en sådan man som al-Halladj kan ha blivit missförstådd, och Gud vet bäst."
---
Boken "Necklaces of Gems" som citeras nedan består av samtida ögonvittnesskildingar av Sheikh 'Abdal-Qadir Al-Jilanis liv och gärningar. Det arabiska orginalets titel är "Qala'id al-Jawahir"
---
Tidigare publicerat på Al-Ghazali-institutet 1999
---